Artwork: Dean Haspiel




Latest News: Sat January 7th, 2006.
Ramblings phrom Phil!
Happy New Year all! I've been putting a lot of clips of stuff from the show on You Tube lately I can't stand it but I'm drawn to it! Here's a playlist of some O' my favorite Ska Videos. Theres a great myspace NY Ska page that informs everyone on the latest shows check it and never be out of the loop!



Special shout outs to my main homegirls Saki (sax player from Japonicans & Scorchers) that has been helping out with co-hosting duties you rock girl! and Snow White Entertainment that has been hooking us up with mad guests! Kudos!



First off, the public access world is very shaky right now! We've been worried about Verizon, The Cope Bill and redlining. I hear them because it effects everyone from our freedom of speech to them prioratizing and marginalizing websites verizon doesnt deem worthy of fast internet ($pecial interest group$)
You'd be the coolest cat in the icebox if you'd please take time to follow the simple steps to fire of a simple letter to your legislators



This weeks episode: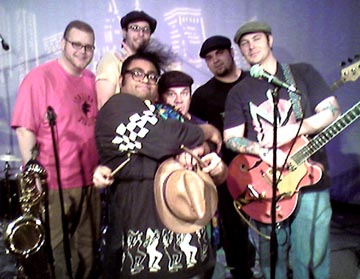 If I can get it Edited in time Indiana Ska from Unlikely Alibi They came to record their CD with King Django and perform at the Knitting Factory somehow they fitted in a performance with us!

Don't have cable? WATCH IT ON MNN.ORG Tuesday/Weds at Midnight click on ch 34!
I'm editing like Crazy! So keep yer peepers peeled for these upcoming Episodes:
Acoustic Ska from Benjamin Ari, The Rudie Crew, NYJedi & Both Masked mutants meet Rock & Fashion duo Just Landed ! also an acoustic set from Vinnie Nobile from Cenzo, (former Pilfers & Bim Skala Bim!) What you know bout that boyo?

We are now on Bi Weekly every other Midnight Tuesday Night/Weds Morning Channel 34
Here's all Manhattan channels so people can choose what they need:
You can also get online and watch the show when it airs at: www.mnn.org
Manhattan Neighborhood Network
Time Warner Channels: 34 | 56 | 57 | 67
Without cable box: 78 | 17 | 69 | 16
RCN Channels: 110 | 111 | 112 | 113
digital: 107 | 108| 109 | 110


You can always email me at checkerphil@yahoo.com


Checkerboard Kids © 2007.
*